36W UV Ultraviolet Sterilization Light
---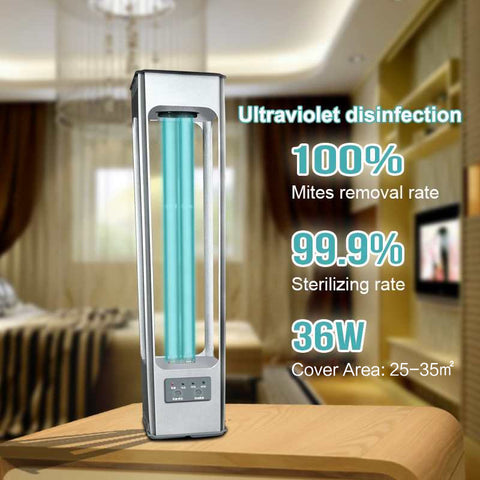 To against the war of the coronavirus, we have designed this new 36W UV sterilization light, this light is very suitable for hospital, home, car, and other places that need sterilization.

Features:

·The lamp has a delay start function, three-time mode selection functions, a buzzer reminder function, a child lock design, and a stable and strengthened base design;

·Ultraviolet disinfection and sterilization for indoor air and still life;

·It can sterilize and sterilize the air. UV sterilization uses the energy of ultraviolet photons;

·It can destroy the DNA structure of various viruses, bacteria, parasites, and other pathogens. Destroy its nucleic acid molecular bond, make it inactive, so as to achieve the role of disinfection and sterilization;

·This product is suitable for use in public places, families, hospitals, schools, offices, etc.;

·Precautions: When using ultraviolet products for disinfection, it must be done without personnel, do not look directly at the ultraviolet lamp. Long-term exposure to ultraviolet rays can damage the skin.



Technical Specifications

Light Source
·Lamp: 36W intelligent disinfection lamp U type/H type
·Service life: 2000h
Power Supply
·Input voltage: AC220-240V/AC110-120V, 50/60Hz
·Input current: 150-180mA
·Power: 36W
·Lamp voltage: 105V
·Lamp current: 400mA
Control Mode
·Control: by Normal/ Human Body Sensing /remote controller
Specification
·Pipe size: 17mm
·Pipe diameter length: 385mm
·Weight (normal version): 0.93KG
·Optional Function (Normal Version)
·GB plug
Disinfection Scope
·254mm irradiation intensity (surface): ≥1000μw/cm²

Packaging
·Carton size: 11.5*10.6*50cm (20 pcs/carton)
·Carton size: 51.8*48.5*55cm (20 pcs/carton)
·Net weight/gross weight: 0.95kg/1.12kg
·Full net weight/gross weight: 19kg/23.32kg