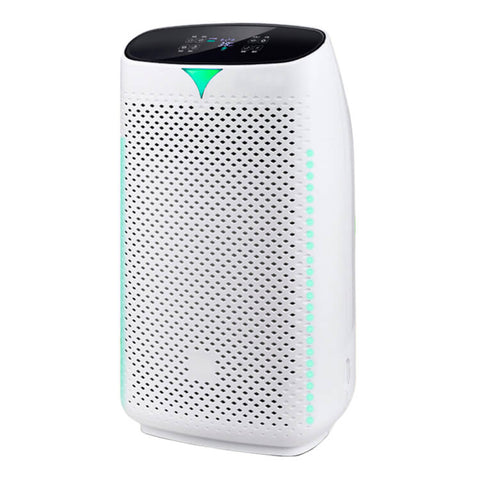 This machine can clear the air in your home, and kill the coronavirus, PM2.5 and others.
Features
The main body adopts non-toxic, high-gloss, high-strength ABS757 material, which is a professional UV-resistant material, which has the effects of anti-radiation and flame retardant;
Using high-end FUCO low wind resistance double high-efficiency filter, imported raw materials, the PM2.5 removal rate of 100%, formaldehyde removal rate of 95%, formaldehyde decomposition capacity integration. Deodorization directly decomposes, no residue and other characteristics; the dust capacity is 10 times larger than the general filter;
Releases 8-40 million negative oxygen ions per second, allowing you to enjoy the fresh air like nature;
Full intelligent remote control operation;
Full touch buttons on the machine: negative ion button, timer button, power button, air quality light button, wind speed button, sleep button, sterilization/disinfection button, automatic mode button;
Level 3 air quality indicator light;
Automatic mode, automatic air volume adjustment function;
Replacement filter reminder function;
Uncover the automatic power-off function;
This machine adopts a high-precision laser PM2.5 sensor to display the true PM2.5 value (close to the value forecasted by the weather).
Technical Specifications
Specification
Rated voltage: AC220V, 50Hz, or AC110V, 60Hz
Rated power: 50W
Rated frequency: 50HZ
Noise:≤50db (A)
Particulate Clean Air Volume (CADR): 300m³/ H
Cumulative particulate purification (CCM): P4
Particle purification energy efficiency: 5.33 (high efficiency)
Formaldehyde clean air volume (CADR): 160m³/ H
Formaldehyde purification energy efficiency: 1.07 (high efficiency)
Executive standard: GB / T18801-2015
Machine material: ABS
Machine size: 350 * 225* 620mm
Machine weight: 8kg
Gross weight: 9kg
Package
Carton board box package size: 410*215*650(1pc/carton)
N.W/G.W/V.W: 8kg/9kg/12kg