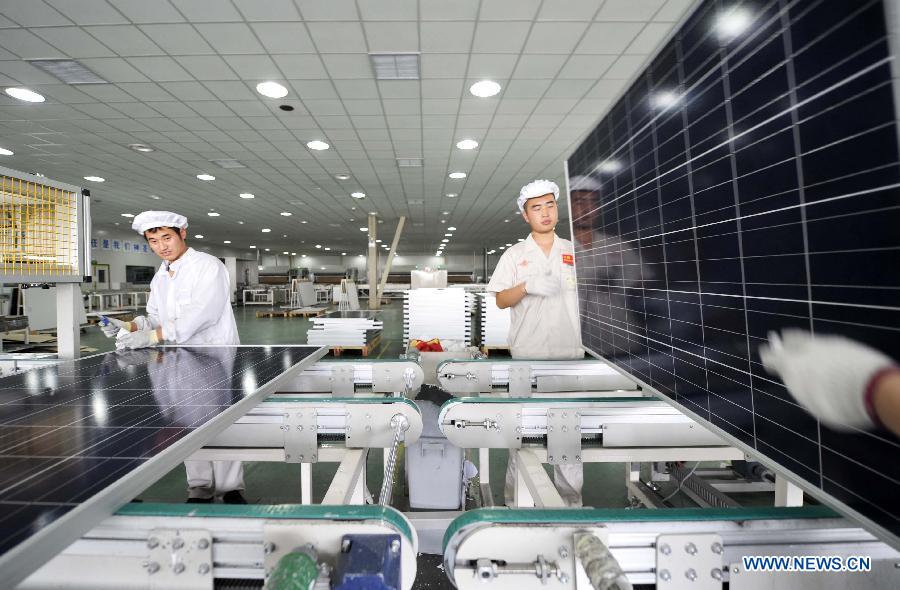 Employees assemble solar panels in a factory owned by photovoltaic products maker Yingli Solar in Tianjin, North China, June 5, 2013. Spokesman of China's Ministry of Commerce Shen Danyang said on June 5 China firmly opposes the European Commission's decision to slap provisional antidumping duties on Chinese solar panels. Shen added that it came despite herculean efforts and utmost sincerity from the Chinese side. On June 4, the European Commission announced its decision to introduce antidumping duties on solar panels imported from China. An interim punitive duty of 11.8 percent will apply to all Chinese solar panel imports starting from Thursday, and the duty will be raised to an average of 47.6 percent in two months if the two sides fail to find a solution. [Photo/Xinhua]
BEIJING -- China has called for dialogue after the European Union decided to slap provisional anti-dumping duties on Chinese solar panels, a Foreign Ministry spokesman said Wednesday.
Hong Lei told a daily news briefing, "The Chinese government and the sector concerned, with utmost sincerity and herculean effort, have been committed to solving the problem through dialogue and consultation."
On Tuesday, the EU trade commissioner Karel De Gucht announced that the EU had decided to impose provisional anti-dumping duties on imports of solar panels, cells and wafers from China.
"We are firmly opposed to this," Hong said, adding that China has noticed the EU reduced the proposed rate from 47.6 percent to 11.8 percent.
"We hope that the EU will show sincerity and work together with the Chinese side to solve the problem through dialogue and consultation," said the spokesman.
Meanwhile, Hong said China has decided to begin an anti-dumping and anti-subsidy investigation into wines imported from the EU.
Hong said China attaches importance to the strategic partnership with the EU and is committed to safeguarding the stable development of their economic ties.
"We hope that the EU will make joint efforts with China and refrain from taking protective meansures," said the spokesman, "which is detrimental to both sides."