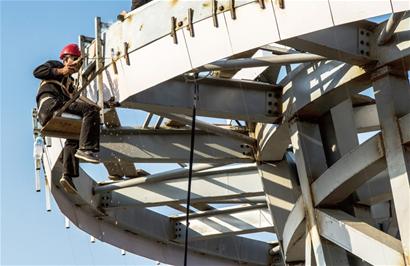 Workers are installing the "petals" to the landmark of the 2014 Qingdao International Horticultural Exposition
The landmark of the 2014 Qingdao International Horticultural Exposition–a steel-structured flower-shaped sightseeing platform – is being installed covered on the outside with red "petals". Once constructed, visitors can get a good aerial view of the Exposition park from the platform.
As an ecological demonstration building, the platform is adopting several new technologies, such a system for bringing natural light into the room, a Ground Source Heat Pump (GSHP) system, high-tech photovoltaic fabric, a solar power system and a rainwater collection system. The platform is expected to become a new energy based building representing professional architecture in its development, and the newest advanced "Zero Energy Building" in China once completed.
The sightseeing platform is situated on a hill east of "Tianshui" in the expo park. Thanks to its geographical advantage, it will become a great place to overlook the whole park and enjoy a night view. "The flower-shaped building, which is 31 meters (101.7 feet) in height, covers an approximate area of 1,300 square meters. Designers evolved the idea of such a creative shape from the Chinese traditional concept of lotus and camellia," said a project director. The platform functions are found in three parts: an outdoor sightseeing platform covering an area of 500 square meters, on which visitors can get an aerial view of the expo park; a 360-square-meter indoor new energy exhibition room; as well as a 350-square-meter and 360-degree viewing platform. "Visitors can arrive at the inside of the 'flower' by climbing footpaths on both sides of the hill. Meanwhile, a vertical channel on the north side for the physically disabled and for emergencies has also been constructed," the director added.
It is reported that the main body of the sightseeing platform is composed of eight well-spaced and beautiful "petals",which are covered by a world-leading high-tech photovoltaic fabric, which can let light and air pass through. The whole building looks transparent and shines like plastic.