Hong Kong's success has always been based on the unflagging resolve of its people. Indeed, the city's stature as a leading financial capital of the East can be attributed in large part to the many local entrepreneurs who have invested immeasurable time and effort into turning aspirations into personal triumphs. It, therefore, stands to reason that Hongkongers' innate ability to seize fresh opportunities, when directed towards the innovation and technology industries, can reap similarly impressive results so long as an appropriate ecosystem is in place. And already, there are a number of impressive examples that indicate this is beginning to happen.
In a recent leadership forum organized by the University of Hong Kong to inspire the next generation of entrepreneurs, I had the honor to represent Hong Kong Science and Technology Parks Corporation (HKSTPC) in enlisting the support of some of these leading lights; specifically, the accomplishments of participants and graduates of the incubation programs that HKSTPC manages. These inspiring examples include Convenient Power, PSP Security, One Earth Designs and Insight Robotics.
Convenient Power earned its place in the limelight by being a co-architect of "Qi", the world's universal standard for compatible wireless charging, and was the first to gain Qi charger certification and launch Qi wireless-charging products on the market. PSP Security made its mark in the world of biometric security, introducing embedded facial recognition solutions that are trusted by the public and private sectors, the latter of which include the Hong Kong Correctional Services and even the US Army. Yet another solutions provider on the rise is One Earth Designs. Their solar-powered cooking grill consumes no fuel and has no carbon emissions, subsequently getting an award at the 41st International Exhibition of Inventions of Geneva. In respect of Insight Robotics, it developed an automatic wildfire monitoring and alert system, the specification and functionality of which were included in China's 12th Five-Year Plan (2011-15) as part of the Wild Fire Prevention Requirement.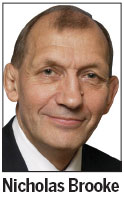 In addition to inspiring future entrepreneurs, HKSTPC is fully committed to ensuring the present crop of entrepreneurs and up-and-coming companies enjoy a head start. Among the many initiatives, the latest move was leading a delegation of biotechnology companies in Science Park to the 32nd annual JP Morgan Healthcare Conference (Jan 13-16) in San Francisco. Representing one of the largest and most significant healthcare investment symposiums in the world, the invitation-only event attracted approximately 400 companies and 9,000 investors in total. Given that healthcare transactions accounted for approximately 8.5 percent of all deals announced globally in 2013 (according to Thomson Reuters), the conference is exactly where local companies need to be present to gain international exposure and support.
Certainly, the support of the government has been and will continue to be important in developing a successful entrepreneur-centric ecosystem. While the Innovation and Technology Fund has been in operation for well over a decade, and greater financial aid has been forthcoming in recent years, the requirement for start-ups and entrepreneurs to deliver credible results has meant that they became less inclined to take up the government's offer. Given that fear of failure is perhaps the greatest hindrance to entrepreneurship, yet also an important part of any learning curve, the government might consider adopting a more flexible approach when determining and defining success in connection with financial support.
Similarly, encouraging a stronger culture of venture capitalism and angel investment would immensely help the entrepreneurial cause. Having declared during the latest Policy Address that the Chief Executive would reinitiate the establishment of an Innovation and Technology Bureau, the secretary responsible for overseeing this new entity will need to examine methods of funding, both public and private, very closely to ensure that they are in the best interest of entrepreneurs, as well as fulfilling the government's objectives "to create an environment conducive to the development of innovation and technology, encourage investment in this area and enhance cooperation among the government, industry, academia and research sectors".
Clearly, the government is aware of the value of innovation and technology. Since entrepreneurship plays an important role in developing this economic driver, it will be incumbent on the government to once again stimulate a sector that has been a catalyst for many of Hong Kong's past successes, and undoubtedly of successes to come.
The author is chairman of the Hong Kong Science and Technology Parks Corporation.