On Jan 24 two news articles appeared in the Financial Times. The first was about 2,000 liters of genetically modified (GM) purple tomato juice developed by United Kingdom scientists. These were harvested in Ontario, Canada, and will be imported into the UK for future research and to attract private investors. The move also aims to encourage industry collaboration and to start the process of seeking the regulatory authorization to bring commercial juice to the market.
The other piece of news was that China has joined the United States, European Union and Japan in a new push to lower tariffs and other trade barriers on the huge annual global market for green goods. This aims to end a deadlock within the World Trade Organization. Efforts to secure a deal on green goods ended in a stalemate at the 12-year-old Doha round of negotiations.
Both these developments will benefit society. Both have considerable economic value. What is the lesson in these two developments for Hong Kong in terms of its regulatory and dispute resolution regimes? The impact on our regulatory regimes seems obvious. But developing our dispute resolution regime will need further clarification.
In regard to purple tomatoes, the 5,000 square-foot glasshouse in Canada will only yield enough tomatoes to produce 2000 liters of purple tomato juice. This is hardly commercially sound unless the juice is sold at a very expensive rate. But the value of the tomatoes is in additional health benefits. The color of the tomatoes result from high levels of anthocyanins - a kind of compound normally found in blueberries, blackberries and other dark colored berries. The purple tomatoes have been shown to have anti-inflammatory effects compared with regular ones. They slow the progression of soft-tissue carcinoma in cancer-prone mice. They also have doubled the shelf life.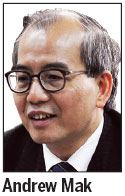 In Hong Kong, there are currently no requirements to label the GM content of pre-packaged or other types of food. The government in July 2006 issued the Guidelines on Voluntary Labeling of Genetically Modified Food. This was to encourage the food industry to make accurate and informative labels for consumers. Given that Hong Kong relies heavily on imported food, there would also be an impact on food choices of Hong Kong people and the industry if mandatory GM food labeling was introduced. Therefore, the government has considered it more appropriate to implement a voluntary labeling scheme in Hong Kong. Food safety is its prime concern. Under the Public Health and Municipal Services Ordinance (Cap 132), any person who sells food unfit for human consumption, irrespective of whether it is GM food or not, is guilty of an offence and subject to fines and imprisonment. In addition, in private law there is the Sale of Goods Ordinance (Cap 26) where goods sold have to be fit for the purpose. There is little concern at present that GM food currently available on the market is likely to present risks to human health. A mandatory labeling scheme at this stage would appear less attractive.
However, quality and its efficacy of GM food will likely become important. Bringing juice to the consumer market will require regulatory approval. This might be possible within two years in North America but likely to take longer in Europe. It seems likely that purple tomatoes or other GM food is becoming more prevalent, and will be coming to Asia - including Hong Kong. It would not be long that we may need specialists in food quality disputes, in our arbitration regime, in particular, as we do not have a registry covering different kinds of manufactured food.
The other case of resolving green trade dispute is more easily understood. This involves building on a 2012 commitment by 21 APEC members to cut all tariffs to a maximum of 5 percent by 2015 for 54 different classes of goods. These range from solar panels and wind turbines to filters and parts used in power and sewerage plants and catalytic converters for cars.
According to EU figures the market for green goods is worth 1 trillion euros ($1.36 trillion) worldwide and expected to double by 2020. About 3 million people in the EU are employed by companies involved in producing environmental goods and services. However, in the case of solar panels, we already have bitter trade battles between the EU, US and China. Brussels and Washington accuse Chinese producers of dumping goods on their markets. It is hoped that an understanding of green goods - the way they work and their economic benefits - will soon be the subject of international trade dispute resolutions. Hong Kong arbitration experts may be able to play a useful role in this area.
The author is a HK barrister and chairman of the Hong Kong Bar's Special Committee on Planning and Policy.