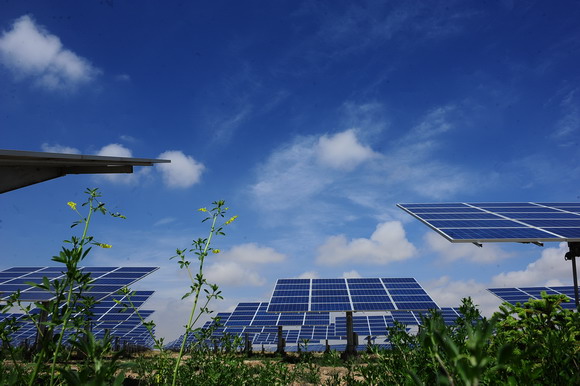 A solar power plant is pictured at the Talatan grassland in Qinghai province, June 19, 2013.
NANCHANG - As the EU begins to impose punitive tariffs on Friday on a number of Chinese solar exports, the world's largest solar market, which once fueled China's wild solar expansion, is now behind the industry's slim-down.
The dust has finally settled on a long-standing spat between China and the EU -- a spat which once put the multi-billion-dollar solar trade at stake. Thanks to a compromise reached in mid-August, 121 Chinese solar makers, which together account for roughly 80 percent of China's solar exports to the EU, will continue to export their products to the bloc, but at prices and volumes that reduce their formerly dominant position in the market.
For Chinese firms not included in the deal, Friday effectively marks their departure from the once lucrative EU market, as a punitive tariff will price their solar products out of favor with European buyers.
"We have decided to give up the EU market," said Wang Yanli, general manager of Jiangxi Wafer New Energy and Technology Company Ltd, a solar maker with a production capacity of 300 megawatts, which has not been exempted from the EU tariff.
"The tariff will push our silicon module to five yuan per watt, much higher than the 4.2 yuan in the domestic market," Wang said.
Wang said the company has yet to lay off any of its 500 employees and is looking to sell in Japan and Australia, among other emerging solar markets.
Yet recovery may prove difficult as demand from these markets, though rising steadily, is far from enough to consume the massive photovoltaic (PV) capacity Chinese companies have accumulated over the years.
Inside an industrial park in East China's Jiangxi province, two small solar makers cannot hold out any longer to wait for the market to turn around. A staff member with the industrial park's management committee told Xinhua that months of losses have brought production to a halt at these two firms.
In Jiujiang, 145 km away, the city's 20 solar makers are now empty shells of their former glory. Some of the firms' owners told Xinhua they were "too sad to talk about it".
Yet all of these failures pale compared with Suntech's demise. The company was among China's top solar makers until a high-profile bond default earlier this year sent its shares spiraling down and forced it into liquidation.
Analysts say the wave of bankruptcy that has hit Chinese solar firms highlights the increasingly hostile business environment companies face worldwide. Chinese authorities had previously deemed the solar industry an emerging sector and extended cheap credit for its expansion.
But that expansion was met with shrinking solar subsidies from governments in Europe, the largest solar market, and followed by trade sparring with Europe and the United States over the last two years. As a result, Chinese firms have been left with mounting debt and solar products with no place to go.
"Suntech's failure is very symbolic of the casualties caused by overcapacity and trade rows with major solar markets," said Wang Bohua, Secretary General of China Photovoltaic Industry Alliance.
Chinese companies have learned a lesson the hard way, as the sector is in the midst of mergers and restructuring to readjust to a changing market landscape.
Though the process may prove painful, the industry will eventually emerge healthier from the transition, Wang added.
This is the view held by Lux Research, a Boston-based research firm, which in May of this year predicted China would transform from the world's largest manufacturer of solar products to the biggest market in the next five years.
Projections from the research firm also suggest that the size of the global PV market will double in 2018 to nearly 62 gigawatts, driven mostly by demand from the United States, China, Japan and India.
"Manufacturers' nightmare is turning into a long-term boon for the industry. Record low prices pushed gross margins to near zero or below, but they have made solar installations competitive in more markets," said Ed Cahill, lead author of the Lux Research report.
"The solar crisis does not mean 'game over' for the entire industry," said Miao Liansheng, chairman and CEO of Yingli Green Energy Holding Company Ltd., another leading solar maker based in north China's Hebei province.
Companies that survive the reshuffle will be those with strong market demand, brand and technologies, while small, inefficient players will be weeded out, Miao noted.
As a result, the success of companies trying to break the current conundrum depends on their ability to diversify into other emerging solar markets, including China.
The State Council, China's Cabinet, vowed in July to nearly quadruple solar generating capacity to 35 gigawatts in 2015 in a bid to open the domestic market for excess solar capacity that is now shut out of Europe and the United States.
It also said it would encourage mergers and acquisitions in the sector and promised financing for large and efficient solar makers.
Other markets are catching up as well, albeit slowly. Statistics from the China Chamber of Commerce of Machinery and Electronic Products (CCCME) show Asia has replaced Europe as the largest overseas market for Chinese solar products, accounting for 37.99 percent of total Chinese solar exports in the first half of this year.
Wang Guiqing, vice president of CCCME, said the share of exports to Europe and the United States combined has shrunk from 90 percent to around 40 percent in the first eight months of this year.
Active deployment to emerging markets has rewarded companies' finances. Trina Solar Ltd in East China's Jiangsu province swung back to profits after eight consecutive quarters of losses. Others, like LDK Solar, have seen their losses narrowed this year.
"Silicon and wafers have seen a surge in price since the beginning of this year, and this speaks to rising demand for solar products," said Tong Xingxue, president and CEO of LDK Solar.
"The worst days are over, and we are confident about the recovery." Tong said.