The 2013 China Solar Decathlon is taking place in Datong, Shanxi province, Aug 2 - 13, with 22 teams of university students doing their best to show their latest and greatest "sun house" inspirations.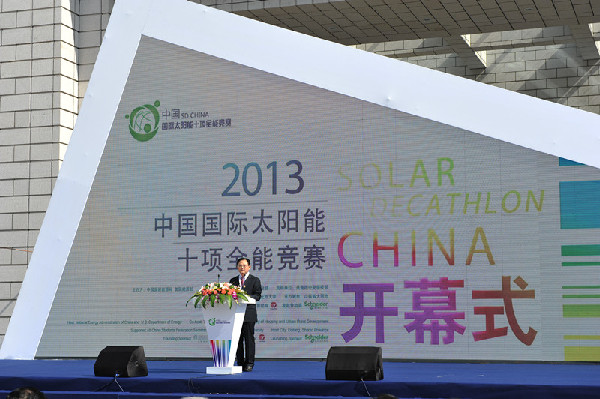 Li Junming, the mayor of Datong, Shanxi province, speaking at the opening ceremony of the 2013 China Solar Decathlon, Aug 2 - 13. in Datong.
The event is supported by the China's national energy administration and the United States'Department of Energy and various other departments, but this is the first time for it to be hosted by China and the first time in Asia.
It will pit 22 teams from 35 universities in 13 countries against each other in such areas as electric power, environmental protection, and construction materials, embracing the talent of people from different places and in different fields to endow their experimental houses with the idea of marketability, enjoyableness, and scientific sense.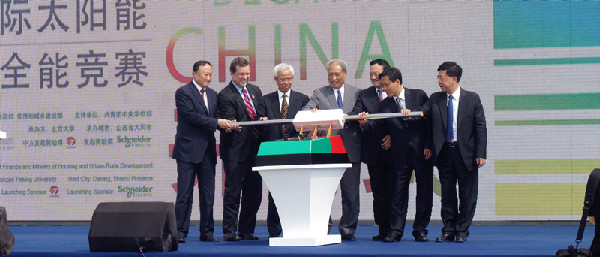 Prominent guests opening the China Solar Decathlon, Aug 2 - 13, in Datong.
The Decathlon is a solar building science and technology competition for universities around the world, whose aim is to apply solar technology to houses and buildings, with the possibility of boosting the industrialization of solar energy with the help of top people from around the globe. It involves the integration of solar energy, energy-savings, and building techniques and has been held seven times, attracting students from more than 100 universities from America, Europe, and Asia.
The regulations say that each team has to build a 60-to-100-square-meter solar-powered house with appropriate appliances, furniture, and so on. The judges base their decision on 10 areas, such as energy-saving potential, physical environment, and energy self-sufficiency, hence the name "decathlon".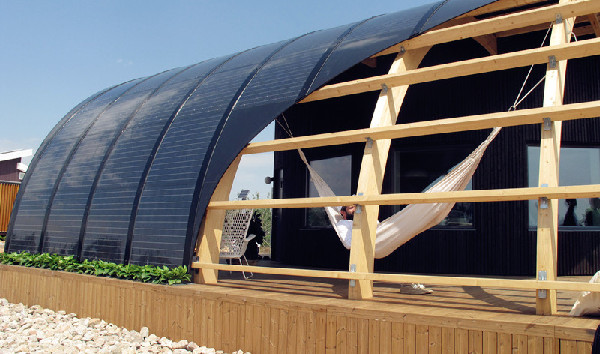 A "Sun House" being assembled by Sweden's Chalmers Universityon of Technology at the China Solar Decathlon, Aug 2 - 13, in Datong.
Datong, this year's host, is renowned for its coal, so the idea of new energy is a likely choice, especially since it concerns the city's possible industrial transformation from this traditional energy source. Datong is also rich in sun resources, with the annual average hours of sunshine at around 2800 and the daily average radiation of 6.1 kWh per square meter, making the solar-energy business a strong emerging industry. Datong also has a history and plenty of tourism resources, another possible area of development.