Despite opposition from 18 EU member states, hundreds of EU solar companies and 15 European photovoltaic (PV) associations, Karel De Gucht, EU's Trade Commissioner, announced on June 4 that the EU would impose provisional anti-dumping tariffs on imports of solar panels, cells and wafers from China.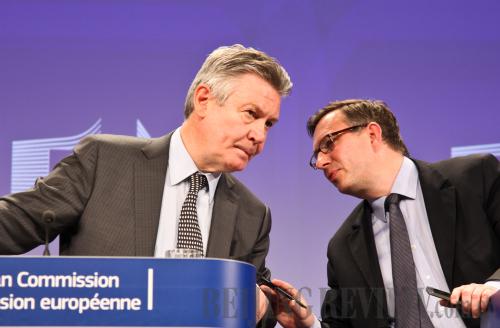 Karel De Gucht (left), the EU's Trade Commissioner, leans toward the host of a press conference on June 4, during which he announced an anti-dumping investigation on Chinese solar products
This is the preliminary ruling of an investigation launched by the European Commission in September 2012. According to the ruling, starting from June 6, EU imports of Chinese solar products would be subject to an interim duty of 11.8 percent until August 6. If China and the EU fail to reach a settlement by then, the duty will be raised to an average of 47.6 percent until Dec 6, 2013. A final ruling schedule on that day would decide whether to turn the provisional duties into definitive measures in the next five years.
This is not the first time that China's solar makers have encountered trade barriers.
In 2012, the United States imposed anti-dumping tariffs of up to 249.96 percent and anti-subsidy tariffs of up to 15.97 percent on Chinese solar panels. The EU's tariffs, however, are more devastating to China's already vulnerable solar industry as the EU, the world's largest solar market, is China's top destination for solar exports.
European imports of China-made solar products totaled 21 billion euros ($27.89 billion) in 2011, accounting for 70 percent of China's total solar product exports and 7 percent of the total trade volume between China and EU, according to an EU estimation.
Due to the trade dispute, Chinese exports of PV products to EU totaled $11.19 billion in 2012, down 45.1 percent year-on-year. Despite the plunge, the EU is still China's largest solar export destination, accounting for 46.1 percent of total exports in 2012, according to a report from the China Market Report Center under Shenzhen Zero Power Intelligence.
A negotiation troop formed by staff from China's Ministry of Commerce (MOFCOM) and China Chamber of Commerce for Import and Export of Machinery and Electronic Products was sent to the EU by the Chinese Government days after the preliminary ruling. But no results had been released to the public by the time this article went to press. Also, the EU's Trade Commissioner Karel De Gucht visited Beijing on June 21 to meet Chinese Commerce Minister Gao Hucheng to discuss the issue.
As the two sides get ready for negotiations on the matter, it has become evident that a trade war is to no one's benefit. Amid fresh trade tensions, China's PV sector is going through a business reshuffle that features a stronger presence in emerging markets and rising domestic demand.
China on the go
China has opposed the EU's duties and called for solving the dispute through dialogue and consultation.
"China is strongly opposed to the anti-dumping tariffs imposed by the European Commission," said Shen Danyang, a spokesman for the MOFCOM, during a press conference immediately following the European Commission's announcement.
"So far, we are not satisfied with the result. But it's already a hard-earned one after China tried its best," said Shen, referring to the fact that the tariff rate was divided into two stages and China is given two months to further negotiate with the EU.
The 11.8-percent interim tariff lasting from June 6 to August 6 is much less than previous expectations, which is largely attributed to the Chinese Government's active negotiation with the EU, especially by Chinese Premier Li Keqiang, say analysts.
During his official visit to Switzerland in May, Li expressed China's stance on solving trade frictions through dialogue and negotiation. Later that month, Li went to Germany and won over German Chancellor Angela Merkel's support on the matter. On May 27, Merkel called for an end to the trade row between Europe and China over solar panels and wireless equipment, citing the need for more trade between the two sides.
On June 3, Li called Jose Manuel Barroso, President of the European Commission, expressing his concerns over the dispute, adding that if the EU insisted on punitive measures, China is bound to counterattack.
"If this case is not properly handled, it will not only harm the interests of Chinese and European companies, but also bring about a possible trade war. There is no winner in a trade war. I hope that both sides can see the bigger picture and try to solve the trade dispute through dialogue and negotiation," Li told Barroso.
On June 7, Premier Li visited some Chinese PV makers in north China's Hebei Province, where he encouraged them to remain hopeful.
"We hope the EU can show more sincerity and flexibility," said MOFCOM spokesman Shen. "In the next two months, the EU should sit down with Chinese solar makers and find an acceptable, reasonable and win-win solution that both sides can accept."
The EU is China's largest trade partner. In 2012, bilateral trade totaled $546 billion, accounting for 14.1 percent of China's total foreign trade. China's exports to the EU amounted to $334 billion, while its imports totaled $212 billion. In the first five months of 2013, bilateral trade totaled $214 billion, down 2.8 percent, according to the General Administration of Customs.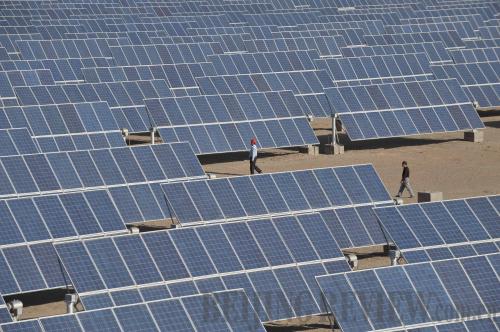 Staff members check equipment at a grid-connected solar power generation system in Dunhuang, northwest China's Gansu province. [CFP]
China has a number of countermeasures in store that can be used as leverage for future negotiations. Hours after the EU's tariffs announcement, China announced that it would launch an anti-dumping and anti-subsidy investigation into wine imported from the EU, a move believed to be retaliatory in nature.
Chinese imports of European wine rose 60 percent on average a year by volume from 2009 to 2012. Last year, China imported 25.7 million liters worth $1 billion from the EU, mostly from France, Spain, Italy and Germany. It accounted for 67.6 percent of China's total wine imports, according to the MOFCOM.
"Although the trade volume of wine is far less than the over $20 billion trade volume of solar panels, it has far-reaching significance to some European countries, such as France and Italy, who supported the anti-dumping tariffs on Chinese solar panels. Besides, the wine industry has a long industrial chain and yields a much higher profit margin than the PV sector," said Bai Ming, a researcher with the Chinese Academy of International Trade and Economic Cooperation.
Qian Jing, Director of Global Branding at Jinko Energy, a Chinese PV maker, said that this trade dispute has gone beyond the control of Chinese PV makers.
"The Chinese Government should step up and do something. Otherwise, it will be the start of a nightmare. If the EU gets whatever it wants by alleged anti-dumping, any country can learn from the EU to harm Chinese companies with tariffs. We don't want retaliation or a trade war. We only hope the Chinese Government can actively seek constructive dialogue and consultation with the EU," Qian told Securities Daily.
Miao Liansheng, Chairman and CEO of Yingli Green Energy, China's biggest PV maker by sales revenue, echoed Qian.
"Punitive tariffs—no matter at what level—will inevitably lead to higher prices for solar products, which will bring about the stagnation of the solar industry in Europe. We therefore encourage the prompt resumption of talks between China and the European Commission," Miao told Beijing Review.
Li Junfeng, Deputy Director of the China Renewable Energy Society, said the EU sent a signal by dividing the tariff into two stages.
"As long as the two sides are willing to sit down to talk, it means they have room for reaching a settlement," said Li.
A source close to the matter told Economic Information Daily that it was essential to reach a settlement before August 6. "Right now, the situation is quite complicated. The EU wants to set barriers both in terms of export prices and export quotas on China's PV products. It's definitely going to be a tough negotiation," said the source.
EU to get hurt
There has been a huge divide of voices inside the EU toward the tariffs. For tariff opponents, there are more things at stake than just the one issue. They want win-win reciprocity rather than a trade war that's doomed to hurt both sides.
A total of 18 EU member states, including Germany, Belgium, and the United Kingdom, oppose the commission's plan to impose hefty tariffs on solar products imported from China. The European Commission may not succeed in its bid to maintain the tariffs because it'll need approval from most EU member states.
For solar panel developers and installers in Europe, they are also opposed to the tariffs, believing that duties would only increase the cost for solar energy and lead to a shrinking of the PV market.
The cost of solar power generation is cheaper in some regions of Europe because solar systems were built with low-cost China-made PV products. But if the price of Chinese products rises, the cost of solar panels will increase and demand from consumers will decrease, which runs counter to the continent's determination to better tap solar energy.
Duties of 20 percent would cost the European economy up to 175,500 jobs and 18.4 billion euros ($24.44 billion) in added value over the next three years. Duties of 60 percent would cost 242,000 jobs and 27.2 billion euros ($36.13 billion) in added value in the PV sector, according to Prognos, an independent European economic research institute.
That's why Alliance for Affordable Solar Energy (AFASE), a Brussels-based coalition of more than 600 European PV companies, is strongly opposed to the EU's decision. It says the move will take a heavy toll on the PV industry in Europe.
"The decision is difficult to understand and would leave an impression that personal interests are possibly behind the move," Thorsten Preugschas, AFASE spokesman, told the China Central Television. "In fact, most EU countries oppose the tariffs."
The organization launched campaigns and submitted an open letter to the EU Trade Commissioner, which got signatures from 700-plus PV companies in Europe for support.
AFASE also says that EU ProSun, the alliance of EU PV makers, which supports the tariffs imposed on their Chinese competitors, does not represent the interests of the EU PV industry, as it only counts 45 members.
"It's unfortunate that Chinese firms have to pay the duties. European solar companies are also the victims, as that means we have to spend more on our raw materials," Preugschas said.
Bai said the EU's duties come at a time when the continent is mired in a slow economic recovery and in dire need of new means of growth. "Imposing hefty tariffs on Chinese solar products hurts the EU as much as it hurts China. The EU knows it. It just wants to use it as a leverage for negotiating with China," he said.
Industrial reshuffle
With too heavy a reliance on the European market, the punitive duties could deal a heavy blow to the financially strapped Chinese PV manufacturers that are struggling with excess production capacity and a price-cutting war.
China's solar industry has long been criticized for its overcapacity, lack of core technology and over dependence on foreign markets. Without key technology, solar makers in China struggle in the low-end of the industrial chain and have tried to win over foreign markets with a strong competitiveness in price, which they gain due to economy of scale and lower labor costs.
As more trade barriers emerge from the EU and the United States, Chinese solar makers have turned to emerging markets and demand at home. In 2012, Chinese exports of PV products to the Association of Southeast Asian Nations and Africa soared by 22.1 percent and 10.9 percent, respectively, according to a report from the China Market Report Center under the Shenzhen Zero Power Intelligence.
Yuan Quan, Manager of the Markets Department at Huilun Solar Energy, said exports to the EU in 2013 only account for less than 40 percent of its total exports. "We marched into the South American market, Japan, Southeast Asia and Africa and made marked progress," he said.
Yingli Green Energy followed suit. The EU market once accounted for 80 percent of Yingli's global shipments, but the proportion decreased to 50 percent in the first quarter of 2013. "We started the strategic shift ever since the EU started their anti-dumping and anti-subsidy investigations," said Fan Zhenhua, director of Yingli's legal affairs department.
Chinese solar makers have also pinned their hopes on demand in the local market due to favorable government policies that encourage families to generate solar power at home and sell it to the National Grid. The Central Government will also offer financial support to companies to beef up their presence at home, according to a State Council executive meeting on June 14.
"China's domestic market has yet to be fully tapped. We are studying how to further cultivate demand at home," said Premier Li Keqiang, adding that solar power has a role to play in China's ongoing industrialization and urbanization plans.
China-EU Trade Disputes
June 13, 2013: The EU requested consultation with China on the latter's anti-dumping duties on certain high-performance stainless steel seamless tubes from the EU. A request for consultation is the first step in a dispute at the Dispute Settlement System under the WTO.
June 5, 2013: China's Ministry of Commerce began an anti-dumping and anti-subsidy investigation into wines imported from the EU.
June 4, 2013: The European Commission announced a provisional anti-dumping duty of 11.8 percent on PV products from China, beginning June 6. The rate will increase to an average of 47.6 percent from August 6 to December 6, unless there is a negotiated solution between China and the EU beforehand.
May 8, 2013: The European Commission agreed to impose an average of 47 percent in tariffs on EU imports of Chinese solar products, starting from June 6, which must be ratified by EU member states.
November 8, 2012: China's Ministry of Commerce decided to impose anti-dumping duties on the products originating from the EU and Japan beginning November 9, which will last for five years.
November 8, 2012: The EU launched an anti-subsidy investigation on EU imports of solar products made in China.
September 6, 2012: The EU launched an anti-dumping investigation on EU imports of solar products made in China.